READINGS & RESOURCES
More Engaging Lectures through Visual Thinking
Centre for the Integration of Research, Teaching and Learning (CIRTL) (2020)
This resource, prepared by the Centre for the Integration of Research, Teaching and Learning at UCC, in collaboration with Maia Thomas, a Cork-based visual artist, provides guidance in an area which I have sought to explore this semester: the incorporation into my lectures of visual thinking and visual approaches to learning. I have come to view this as a central element of teaching critical thinking: visuals and image-based exercises can be a dynamic and collaborative entry point to exploring complex and contested issues.
Teaching Critical Thinking: Practical Wisdom
bell hooks
hooks helped to (re)ground me in the most fundamental aim of my teaching: to cultivate critical thinking. Reading Teaching Critical Thinking was a useful and humbling exercise which (in combination with conversations with DISCs colleagues) reminded me of the radical modesty of facilitating a culture of critical thinking in the classroom. This helped to strip away the bits of my lesson plans that had become bloated or unwieldly, and think about what activities might help best achieve critical, creative and collaborative interrogation of core issues.
"Living the Peace Process in Reverse: Racist Violence and British Nationalism in Northern Ireland"
Robbie McVeigh
McVeigh's work provides a useful and accessible entry point into discussions about race and racism in Northern Ireland. Crucially, it relates these issues to other core themes in the study of Northern Ireland politics, and illustrates how key issues in social justice (namely, racial and gender equality) are often overlooked or marginalised in peacebuilding discourse and practice.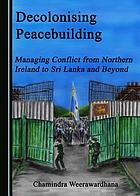 Decolonising Peacebuilding: Managing Conflict from Northern Ireland to Sri Lanka and Beyond
Chamindra Weerawardhana
Weerawardhana powerfully deconstructs a prevailing (colonial) myth about the Northern Ireland peace process, namely, that it is a process that can or should be emulated in other 'deeply divided' societies. Her approach highlights the flaws in the process itself (including its heteronormativity and exclusivity) and inverts the proposition that learning in peacebuilding should necessarily flow one way – North to South, West to East. It's a challenging book which helped to reshape how I think about and teach Northern Ireland politics with a view to critically interrogating key issues in social justice.