HOUSING AND HOMELESSNESS
The coronavirus pandemic hit Ireland amidst a national housing and homelessness crisis. According to Focus Ireland, there were 9,907 people reported as homeless just before lock-down measures were announced in March 2020. This figure reflects a 216% increase from March 2015.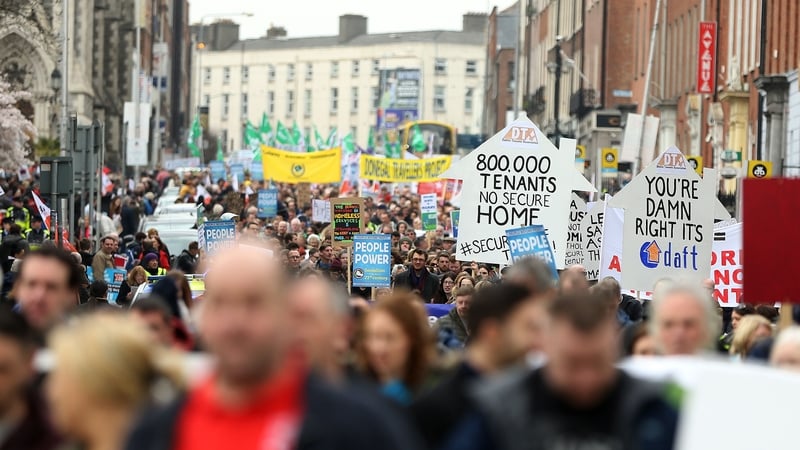 SOURCE: RTE NEWS | 28 Feb 2019
Yet these estimates capture only a portion of the crisis as the existing data does not include the number of those in domestic violence refuges or homeless emergency accommodation, nor those 'sleeping rough' on the streets and living in 'hidden homelessness' — i.e., in squats or 'sofa surfing' with friends.
Researchers and community organisers have long argued that the homelessness crisis in Ireland has been the direct result of a broken housing system. Following the 2008 financial banking crisis, the Irish government outsourced its housing programmes to private developers — for whom profit is paramount.
In the years that followed, housing prices skyrocketed. And without adequate public housing provisions, low-income families and individuals have been unable to compete with the rising costs of living in the private rental market. In Dublin, for instance, house prices are now up to nine times the average wage.
With 1 in 5 households now living in privately rented properties — doubling figures from 2010 where only 1 in 10 were renting — housing advocates have called upon the state to control the price of land, build more public housing, and implement measures to block speculators.
MARK CULLINANE
"The Covid-19 pandemic has cast into ever sharper relief the fact that disparities in housing and housing security remain some of the most profound fissures of all"
Dr. Mark Cullinane is a postdoctoral researcher in the School of Applied Social Studies, University College Cork (UCC). He is currently contributing to a number of housing-related research projects on topics from local urban regeneration, social housing, and long-term homelessness in Cork City. His research interests also include the sociology of mass media, models of public service journalism, the mediation of political life, and civic participation in media systems.
Mark was very generous to contribute a video essay on the impacts of COVID-19 in Ireland within the contexts of a housing and homelessness crisis. In this respect, Mark critically illustrates how housing needs have always been peripheral to policy. With many now left deeply vulnerable to the worst impacts of the pandemic, the piece argues that the state's response to the present crisis reflects an adherence to pre-existing priorities rather than an upending of them. To watch, just click here.
---
RESOURCES
For more information on the Raise the Roof campaign, you can visit their website.
Page last updated: 12.49 Thursday 28 May 2020